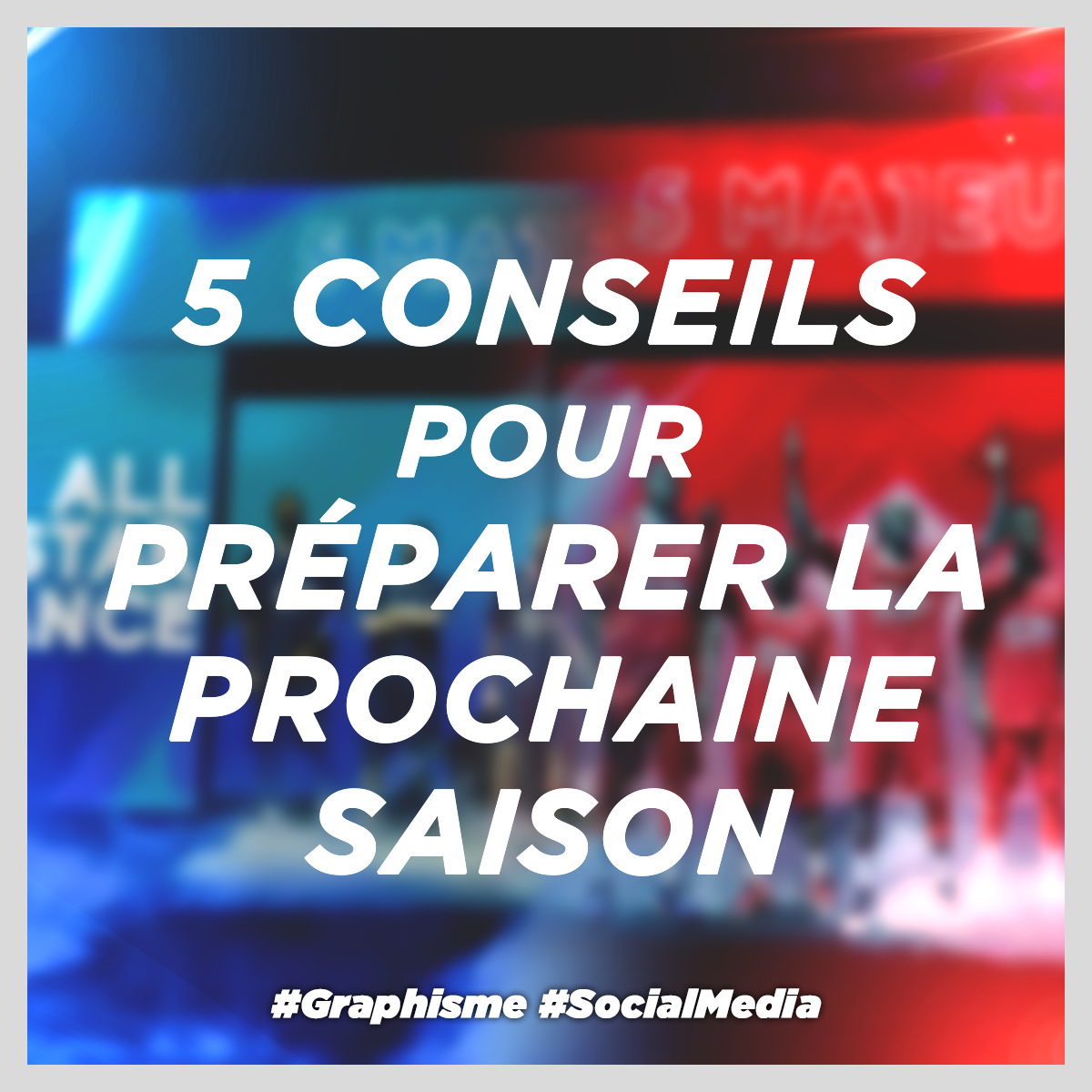 5 digital and print tips to get ready for the 2020/2021 season
Sport is having a very special year in 2020 with all of these directives following the health crisis in which we are. The 2019/2020 financial year was particularly disrupted by CoVid-19 and it is now time to look to the future so that this period
1- Take stock of what worked internally last season
Before starting any new exercise, it is always a good idea to take stock of the past so that you can move forward. Generally your team has lived for many months under the pressure of the routine and the content to create, distribute, think etc. Therefore no one has really been able to question the well-being of each and the decisions, good or bad that could be taken for the internal collective good. Take the time to listen to your entire team and make adjustments with each to make your day-to-day work more efficient and enjoyable. It will also allow you to have teams ready to give their all and therefore also in a better position to be creative and innovative.
2- Take stock of your digital needs
Once you have made sure that every human resource you have is feeling good and in its role and in the production it must provide, take stock of the content that has been best received by your fans. Analyze with several KPIs (Key Performance Indicators) such as impressions, interactions (especially comments) and number of subscribers.
Each KPI will allow you to measure your Awareness, Interaction and Conversion levels. This way you can refocus the objectives of your actions and optimize them. For example, knowing whether your digital presence has the primary purpose of «bringing your subscribers to the stadium» (measuring the flow between your networks and your box office) or «improving your club's reputation regarding fans and the outside world» (long-term work by measuring the returns that are made and the increase in the number of subscribers).
3- Anticipate the creation of the graphic charter
Every year you have to think, create and develop a "new" identity, which in itself is the visual image of your club for the coming season. From this you will be able to carry out all your communications. By taking advantage of the time you have and getting ahead of the next season, you will free up time to create more content. The studio Visul3 accompanies you in the graphic creation of this chart. In this way, you co-create the image and focus on the operational aspect according to the needs you have analysed before.
4- Canvass partners and optimize display media
After team management, analysis and graphic design, you are ready to offer spaces and perhaps even new display spaces to your partners. Your analyses have made it possible to isolate the most impactful digital posts. If they are impactful, it is because they also have a digital value and therefore will be new potential displays for your partners. Visul3 works with clubs to adapt graphics, digital or print media, with sponsorship. Specialized in sports advertising, the creative studio has a global experience and works with you to ensure that these new spaces are the most suitable and that your work can focus on commercial marketing.
5- Completing your subscription campaign
The subscription campaign is the first major issue of your season. This conversion goal (attracting and retaining) must however be the first image that fans and the world of football will have on your new visual communication. Beyond prices and other aspects, a campaign can be successful if it highlights the good ambitions of the club and if it translates the path you want to bring your fans. This is the first step of the Storytelling of your season. Its advantage: it does not depend on any sporting result, the page is white, everything is to create.
We hope that these various advices have enabled you to clarify the situation you are in. The Visul3 studio is at your disposal to support your actions and your development. You can contact us at helene.magario@visul3.com or find us on LinkedIn: Hélène Magario.