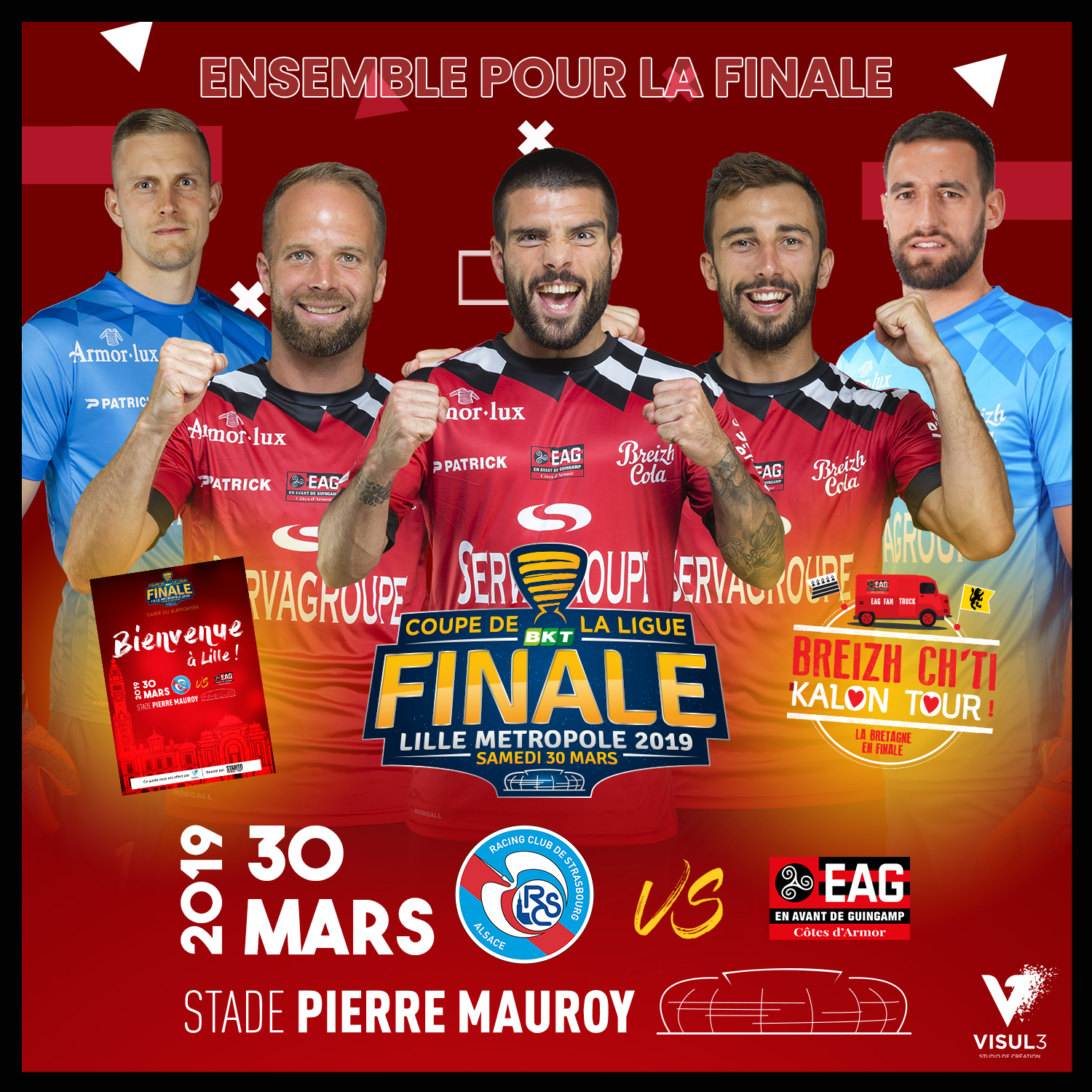 EAG in the Coupe de la Ligue BKT 2019 Finals.
For several weeks now and after the victory of L'en avant Guingamp over Monaco on the penalty shots, we have been preparing the final of the Coupe de la Ligue, which was played on Saturday 30 March in Lille. Faithful to ourself, we accompanied EA Guingamp in the broadcasting, promotion and teasing process of this important moment for the club.
Club fans' guide
Based on a common reflection, we produced the « Guide du supporter » thanks to our knowledge of the territory hosting the final. From a photo shoot in the streets of Lille to the writing and layout of the guide, we wanted to bring the more complete and diverse guide for the fans to live their final weekend to the fullest.
Breizh Ch'ti Kalon Tour
Tout au long du Breizh Ch'ti Kalon Tour, dont nous avons participé à son identité visuelle, nous avons post-produit les interviews des partenaires, supporters et anciens joueurs du club. Ce format rapide est adapté à la diffusion réseaux sociaux pour faire vivre un périple au jour le jour.
Teasing and announcements
En addition aux contenues précédemment indiqué, le studio Visul3 a réalisé plusieurs vidéos dédiées aux réseaux sociaux tels quatre vidéos « Flashback » retraçant chaque jour de la semaine avant la finale, les étapes franchies par l'EA Guingamp pour parvenir à la finale ou encore un teaser final pour le J-1.