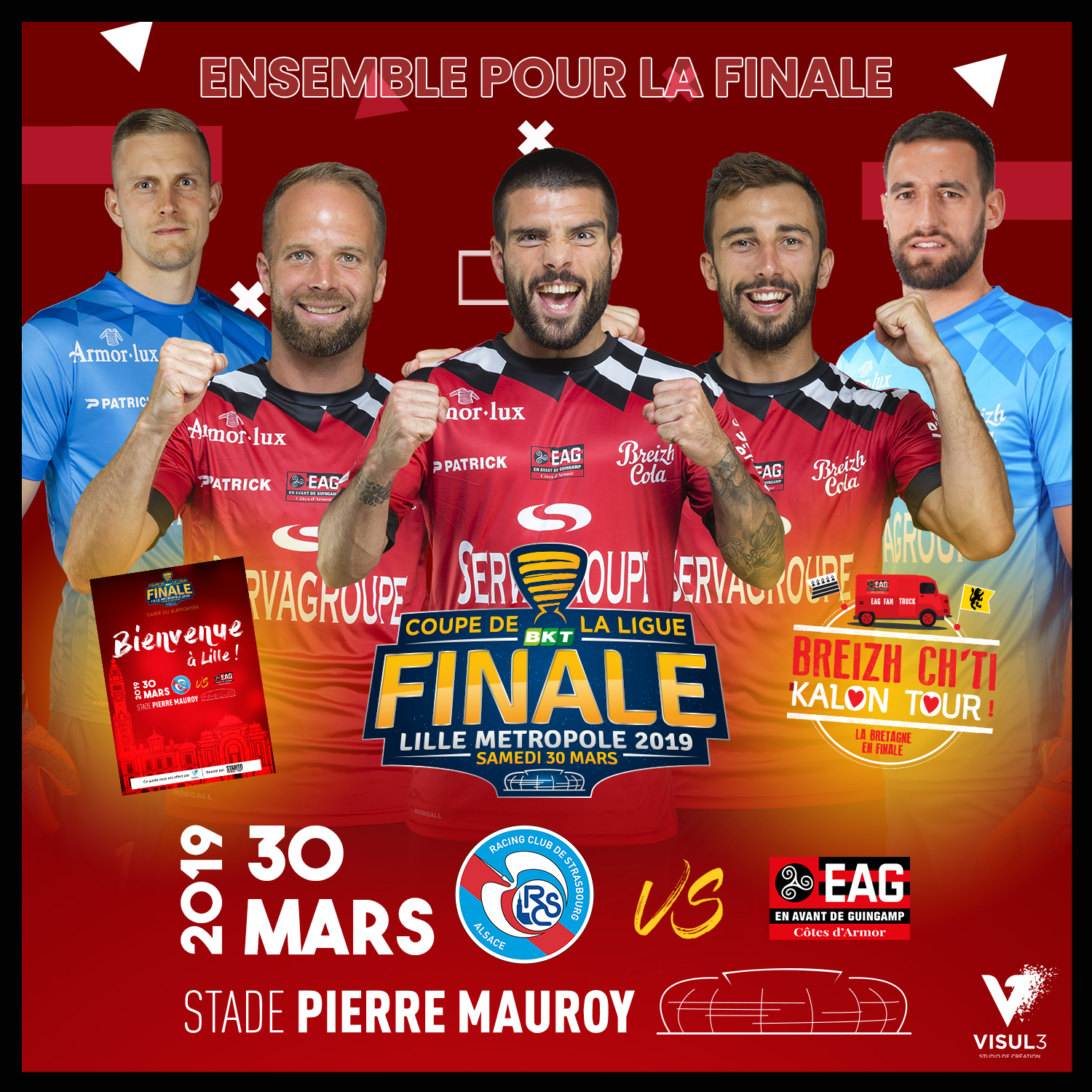 EAG in the Coupe de la Ligue BKT 2019 Finals.
For several weeks now and after the victory of L'en avant Guingamp over Monaco on the penalty shots, we have been preparing the final of the Coupe de la Ligue, which was played on Saturday 30 March in Lille. Faithful to ourself, we accompanied EA Guingamp in the broadcasting, promotion and teasing process of this important moment for the club.
Club fans' guide
Based on a common reflection, we produced the « Guide du supporter » thanks to our knowledge of the territory hosting the final. From a photo shoot in the streets of Lille to the writing and layout of the guide, we wanted to bring the more complete and diverse guide for the fans to live their final weekend to the fullest.
Breizh Ch'ti Kalon Tour
Throughout the Breizh Ch'ti Kalon Tour, for which we participated in its visual identity, we post-produced interviews of the club's partners, club supporters and former players. This fast-paced format is suitable for social networks to make a day-to-day journey.
Teasing and announcements
In addition to the above-mentioned content, Visul3 studio has made several videos dedicated to social networks such as four «Flashback» videos dedicated to each day of the week before the final, the steps taken by the EA Guingamp to reach the final or a final teaser for the D-1.
J-1 ! 🔜 Rendez-vous demain au Stade Pierre Mauroy pour vibrer tous ensemble ❤️🖤 #RCSAEAG #FinaleCDLBKT pic.twitter.com/1EumOAm8aM

— En Avant Guingamp (@EAGuingamp) March 29, 2019